We Are Now Hiring! Contact us today for more information!
Cleaning Service in Belle Fourche, SD
True Cleaning Carpets and Janitorial Services is a certified professional cleaning company operating out of Belle Fourche, SD, serving local-area businesses and private residences. Our core services include carpet and floor washes, waxing and buffing, as well as cleaning for upholstery, pressure washing and more. Our janitorial services are perfect for businesses with ongoing cleaning and upkeep needs. Contact us today to book one-time or ongoing services with a team that's committed to delivering the highest standards of cleanliness.
We Set the Standard for Other Cleaning Companies
Carpet and other types of flooring see relentless wear and tear every day. But that doesn't mean it's acceptable to have marring, marks and stains—especially if you're a business! Routine carpet and floor cleaning are some of the best investments you can make, and it pays to trust the experts at True Cleaning Carpets and Janitorial Services for results you can see! We've made a name for ourselves throughout Belle Fourche, SD not only because of our cleaning services, but because of our commitment to total janitorial excellence.
As a Service-Disabled Veteran-Owned Small Business, we know the value of hard work. We bring a superior standard of excellence with us to every single job we do—whether it's cleaning up after a recent remodel or stripping, waxing and polishing the floors in your facility. We're proud to have earned the trust of businesses big and small, and we're committed to earning yours. Call us for eco-friendly carpet cleaning, professional floor services, window cleaning, curbside auto cleaning and much, much more. We do everything other cleaning companies do—but better!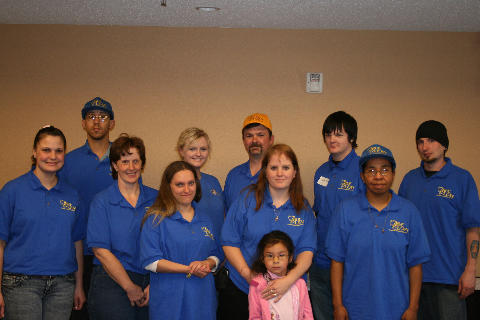 Learn More
Our business uses eco-friendly, green products whenever possible.
We're a Service-Disabled Veteran-Owned Small Business that operates with integrity.
We've been in the business for more than 25 years proudly serving Belle Fourche, SD.
We service national accounts, as well as local small businesses and residential jobs.
Need an estimate on service? We offer free, no-obligation estimates to interested parties.
From local small businesses to national chains, our scope of abilities is available at-scale for your business. We're based out of Belle Fourche, SD but are proud to offer cleaning services throughout Fourche, Fruitdale, Spearfish, and Aladdin, SD, as well as Gillette, Sundance, Casper and Sheridan WY. We even go so far as Billings MT, and we have a strong reputation among businesses in Bismarck and Dickenson ND. We cover a lot of area and we're always looking to grow! Contact us today to schedule service and let us add you to our long (and growing) list of satisfied partners.
Results You Can See, Feel and Smell
Enlist the help of True Clean Carpets and Janitorial Services to get your facilities sparklingly clean, and to experience the convenience of a service that's committed to your satisfaction. We offer the best in floor and window cleaning services in Belle Fourche, SD and: Spearfish, SD | Sturgis, SD | Rapid City, SD | Rapid Valley, SD | Gillette, WY | Douglas, WY | Sheridan, WY | Miles City, MT